Over 30 years experience in the Industry. Impeccable installations. Professional trainings. Many Long Island and Hamptons-area referrals upon request. Canine Control Company – Leaders in the electronic, underground-wire, pet-containment Industry. 
Safely containing Long Island pets for over 30+ years.
With a Customer satisfaction rating of 10 out of 10.
Satisfied customers are our speciality
Hello and Welcome to Canine Control Company, Inc. Proudly serving Electronic Pet Containment customers since its inception 1985.
Our Primary purpose is to keep your pet happy and safe on your property.  Steven Wagner and Patty Veit are active owners.  Steven worked for electronic pet-containment when there was only one brand.
And in the beginning, that Brand also had a patent on the concept itself.  Well of course years go by and times move forward. Canine Control Company stayed with the same original brand Steven worked for back in 1985.  Why?  Because we believe it is the best and most innovative in the industry.  We use only quality products and we stand by our warranties.
However, Canine Control Company also realizes that not only do people buy the brand, but they also buy a company and the people that company employ.  We have the experience and knowledge of the industry and the 'Caring of the Human Spirit' to be your local company.  We have over 25 years of satisfied customers that love to share their beloved pet stories.
We know life can be fast-moving and confusing.  Canine Control Company would like to make your life a little easier, where you feel like you have a little more control, and finally..time to play…with your dog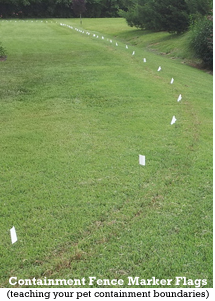 Our Solutions will keep your pets…
Out of the Trash…
Off your Furniture
From digging up your Garden…
and In Your Yard!